...a lightful generous indoor arena...
... and an idyllic outdoor place
Welcome to a wonderful place

Our stables offer you a familiar and private atmosphere. The facilities are modern and adapted to our sporthorses needs. Have closer a look – we warmly welcome you!
You love to train in an idyllic  scenery? At our  wonderful  outdoor arena in a northern Germany landscape surrounded by green birch trees horse education gives you a  great feeling.
An outdoor arena for all seasons
Perfect ground as a good base
For the health of the sport horse it is essential to work on good soils. Our arena surfaces are of the highest standard.
Our hotspot from heavens view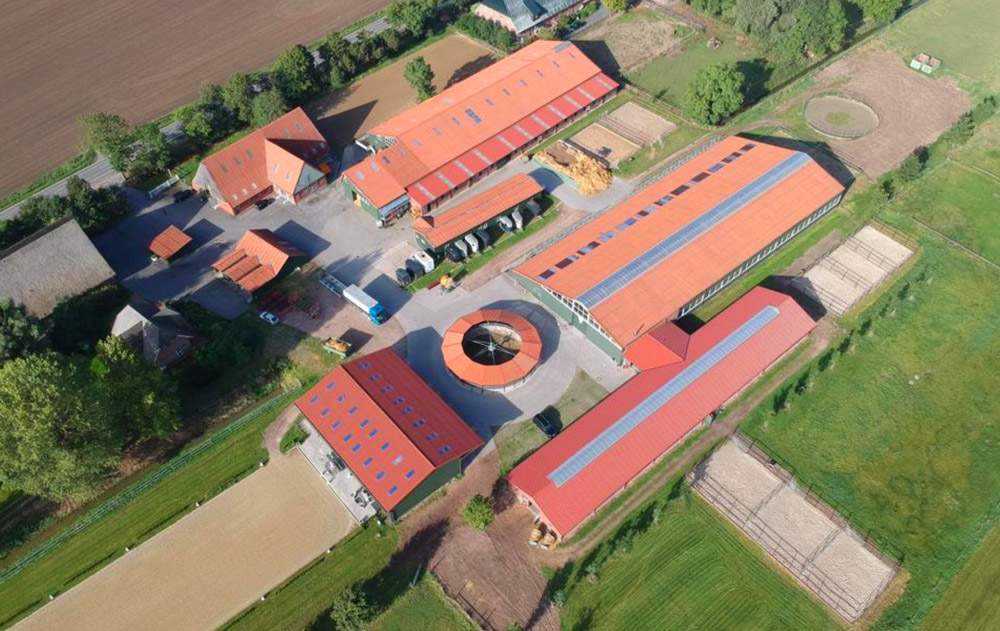 Up to 10 horses, diameter 20 m 
different sizes, use for summer season
where horses love to live
A place to be for athletic horses 
This perfect home for your dressage horse includes bright boxes, a large stable aisle, heated tack rooms, a washing area, a solarium, high-quality food, and experienced grooms.  In winter time there are secure drained sand paddocks – in summer time the horses enjoy  well fenced meadows. These amenities promote the health and well-being of your horse and ensure its success and happiness.